Essex Street Inn Partners with Firehouse Center for the Arts on Veterans Impact Tickets
NEWBURYPORT, MA -- Essex Street Inn and the Firehouse Center for the Arts are teaming up to offer a special veterans discount program. Beginning on June 1, any active duty or veteran military personnel will be given a $5 discount on all tickets purchased for Firehouse Produced and Presented performances at the Arakelian Theater.
"Essex Street Inn is proud to continue its efforts to give back to veteran's in our area by supporting the Veterans Impact Ticket program at the Firehouse Center for the Arts," notes John Guertin, owner of Essex Street Inn. Adds Lori Guertin, "The Firehouse is the cultural center of Newburyport, and it is our hope and goal that Newburyport's veterans have the opportunity to enjoy some of the many shows performed there over the course of the year."

Tickets for this program will be purchased through the Box Office with valid military ID and will be credited to the entire transaction.
"The idea stemmed from a conversation I had and I am thankful to John and Lori Guertin for their support of this initiative," says John Moynihan, Executive Director of the Firehouse. "It feels great to be able to give back to those who were willing sacrifice themselves for us."

The 2016/2017 season is well underway and has some great events coming up to close the season. Starting June 15, the Tony-Award winning musical Avenue Q hits our stage. Our Sea Level Oyster Bar Concerts
Mattress a Month Program Celebrates Veterans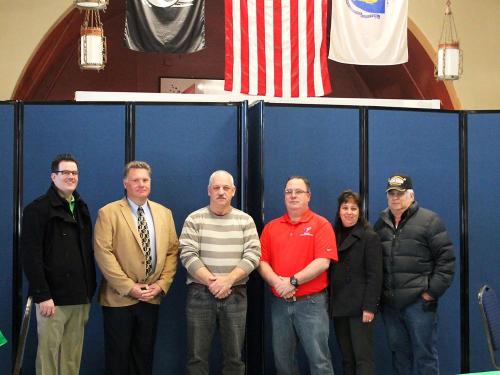 HAVERHILL, MA – Several military veterans and their families in the bi-state Merrimack Valley region of Massachusetts and New Hampshire can look forward to a good night's sleep due to Essex Street Inn's parent company, Cardinal Development, ongoing commitment to provide a mattress a month to one of our nation's heroes.
Through an association with the Veterans Northeast Outreach Center in Haverhill, MA, John and Lori Guertin, owners of the Cardinal Development, and Al Pastore of Mattress Depot have combined resources to pledge a Mattress a Month for Vets in the region.
Housing more than 500 families in 2016, The Veterans Northeast Outreach Center provides supportive services for veterans and their families including housing, employment assistance, and a food pantry. The Outreach Center is dedicated to ending veteran's homelessness and the Mattress a Month program helps fulfill an urgent need for a bed when a veteran exits homelessness. The Outreach Center distributes mattresses according to the needs of those they serve.
"Our goal is to honor and support local veterans – who have sacrificed to keep us safe and allow us a good night's sleep – by providing them the opportunity for a good night's sleep," said John Guertin, principal at Cardinal Development. "We're in the hospitality business. We understand how important a good mattress to getting essential rest. The generous support of Mattress Depot has helped us to make a long-term commitment to this important program."
About Cardinal Development: Cardinal Development is a hospitality company with properties in Massachusetts and New Hampshire that including the Essex Street Inn in Newburyport, MA, The Valley Inn in Waterville Valley, NH, Woodwards Resort in Lincoln, NH, and Royalty Inn in Gorham, NH. Each property embraces the uniqueness of its location and offers comfortable, affordable accommodations and an abundance of year-round activities.
Photo Caption: Meeting in the common room at the Veterans Northeast Outreach Center are Stephen Leonard and John Guertin of Cardinal Development, left, with John Ratka, executive director, and Randy Carter of the Veterans Northeast Outreach Center, Lori Guertin, and Army Veteran Mike Hay.
Local inn gets new lease on life
Lincoln, N.H. – Essex Street Inn owners Lori and John Guertin are pleased to announce the recent acquisition of the Beacon North in Lincoln, a 56-room inn with surrounding cottages, now renamed the Inn of Lincoln. The Guertins enjoy bringing distressed properties back to life to become thriving businesses that make a positive contribution to the community.
Read the full release by clicking here.
A lasting connection: Massachusetts General Hospital donor & Essex Street Inn owner John Guertin retains a bond forged 25 years ago
The Essex Street Inn makes for an ideal getaway. Nestled in the heart of downtown Newburyport, an intimate hamlet abutting the ocean on Massachusetts' North Shore, the inn welcomes hundreds of happy tourists every year. While soaking in the resplendent waterfront views and Victorian ambience, it's a good bet that few of the inn's visitors could possibly imagine the odds one of its owners, John Guertin, has overcome to be where he is today. Read the full release by clicking here.
Woodward's Resort and Inn of Lincoln Merge Operations
Lincoln, NH. - September 7, 2010
Woodward's Resort and the Inn of Lincoln, both of Lincoln, New Hampshire, have merged operations and ownership. A new single entity comprised of Jeff and LisaWoodward of Woodward's Resort and John and Lori Guertin of the Inn of Lincoln will own and operate both businesses.
Woodward's is an 85 room full-service resort property that has built a large repeat customer base and a great reputation over the past 50 years. www.WoodwardsResort.com The Inn of Lincoln is just 1/4 mile away and offers 58 units consisting of motel rooms, suites, and cottages. www.InnofLincoln.com
The Inn of Lincoln has been in existence for just over one year and was formerly known as the "Beacon North". The owners have extensively renovated the indoor pool, the front office, the building exterior, and the rooms. They have added significant roadside appeal with new landscaping and signage. According to Lori Guertin, "We will now be able to extend the great reputation of Woodward's to increase occupancy in our newly renovated motel rooms and suites."
The Inn of Lincoln will now be able to offer meal plans to guests and be able to accommodate groups requiring both meals and lodging. Woodward's will be able to expand the variety of room types they can offer guests. The Inn of Lincoln has 26 luxury suites and 12 individual cottages along with standard motel rooms.
Woodward's Resort will retain its current name, and the Inn will be rebranded as "Woodward's Inn of Lincoln and Suites". The Guertins have proven their expertise in the hospitality industry with their successful renovation, growth, and operation of the Essex Street Inn in Newburyport, Mass.